The Pulse of the Mainland
discover, enjoy, repeat
Mainland activities in the Crikvenica-Vinodol Riviera
Every vacation should have some special experience that makes the whole trip memorable. Explore and enjoy the attractions of your destination, even if they appear trivial at first sight, like a stroll or bicycling on unfamiliar paths or taking in the view from a different angle. But why not also try some particularly challenging trails: on the Stone Pillars Trail you will be able to test your own limits and ascend to heights that take your breath away.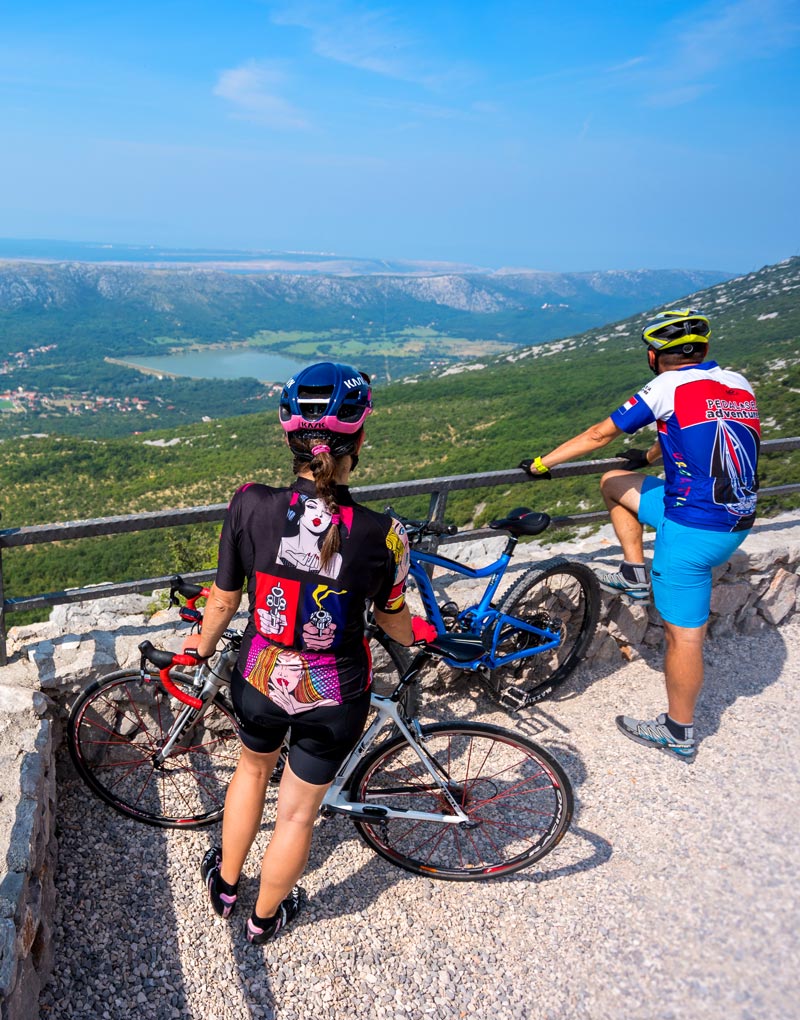 adventure on two wheels
Cycling
An exceptional geographical position, a mild and pleasant climate that allows sports activities almost all year round, and a network of attractive bike trails make the Crikvenica-Vinodol Riviera an ideal destination for cycling enthusiasts, regardless of whether you are a professional or recreational athlete. The multifaceted nature of the terrain, the diversity of surfaces and the magnificent vistas of Kvarner Bay allow cyclists to enjoy every kilometre of distance and every metre of elevation. Whether you drive past wonderful beaches, picturesque medieval towns, magnificent Frankopan castles, or above the steep cliffs of Vinodol, a bike tour of the riviera is always an enjoyable experience. Road, trekking or mountain bike? It doesn't matter! Ten attractive, interconnected cycling routes will provide you with an unforgettable adventure on two wheels.
from the sea to the mountain peaks
Hiking and walking
A walk along the coast, through a pine forest right by the sea, or in the green hinterland along fragrant, eye-pleasing hiking trails is an additional reason to visit the Crikvenica-Vinodol Riviera.
The network of trails and promenades will inspire you to explore the destination because each of them hides its own secret and provides a special experience. Enjoy a day spent in great natural surroundings and reward yourself with beautiful views of the coast, islands, and the green expanses of Gorski Kotar. Take a map of hiking trails and promenades on your hiking adventure, and for easier navigation with your smartphone or navigation device, download the GPS track from the website. If you want to be accompanied by local mountain guides for safety reasons, contact the Strilež hiking club. – www.pd-strilez.hr
On some sections of the hiking trails, you will come across the signs of the Rijeka Hiking Trail (RT), Kapela Hiking Trail (KPP) and Gorski Kotar Hiking Trail (GPP). Croatia has two long-distance hiking trails: the Via Dinarica and Via Adriatica. They connect the most attractive Croatian mountains, peaks and viewpoints using the infrastructure of the most popular Croatian hiking trails. Section no. 3 of the Via Adriatica and the White Trail of the Via Dinarica pass through the Crikvenica-Vinodol hinterland.
note: Wear appropriate clothes, especially because of sudden weather changes at higher elevations. Sturdy hiking boots and walking poles are recommended. Take enough water to drink!
energy for new challenges
Running and Trail running
Put on your running shoes and go running along the numerous hiking trails and roads, enjoying the scenic beauty that surrounds you, and the silence and fresh sea air. Or why not take part in the Adria Advent Marathon, a top running event which takes place at the beginning of the Advent season.
road and mountain running club
KCBT 1288 Bribir
+385 91 510 3493
sail through the air
Paragliding and Hang-gliding
Soar up the Vinodol Valley and experience the area from a bird's eye view. Hang-gliding and paragliding are one of the main reasons for visiting Vinodol. A flight from Tribalj take-off site will reward you with a unique view of the Crikvenica-Vinodol Riviera, the golden island of Krk, and the entire Kvarner Bay. The ridge is twenty kilometres long, and its steep rocky slopes allow for good thermals and ease of flying. Thermal activity is stronger in the middle of the day, while the afternoon hours are more suitable for comfortable and calm flying, which means that this site is ideal for flying for both beginners and advanced pilots. If you have no experience, you can be accompanied by licensed guides. The flight must be announced in advance to the take-off site operator. Due to the proximity of Rijeka Airport, the permitted zone and altitude must be respected. Relax, spread your wings, become a bird for a while and sail through the air above the beautiful Vinodol Valley!
breathtaking heights
Climbing
Above the Vinodol Valley, there are high and steep rocks called griže, from which the village of Grižane takes its name. Looking from the valley, these rocky barriers seem rather impenetrable, but in the past people used to pass through here for trade, carrying grapes, figs and cherries in exchange for grain, potatoes and beans. Today, these vertical rocks are an attractive spot for climbers and alpinists. There are two main climbing locations: Klamaruša and the barrier above Bribir. The vertical steep cliffs of Klamaruša, which rise above the villages of Antovo and Baretići, represent a real climbing challenge. Here, you can find the Antovo sports climbing area, with routes from 4b to 6c+ that are up to 30 m long, while on the surrounding cliffs there are several alpine and sports climbing routes longer than 150 m. The rocky barrier above Bribir contains two other attractive long sports climbing routes: Prisnac direkt 6a (145 m long), and Infleksija 7a+ (112 m long). Climbing in these locations is recommended only in the colder part of the year (October to April) due to the lush vegetation, southern orientation of the rocks, and the presence of snakes.
Getting there
Antovo Sports Sector: parking at the hamlet of Antovo
(45.218954 S, 14.706279 I), and a 5-minute walk uphill along the path.
Klamaruša long routes: parking at the hamlet of Baretići
(45.216550 s, 14.709321 I), and a 15-minute walk eastwards.
Barijera Bribir: parking in the hamlet of Dragaljin
(45.170334 S, 14.760312 I), and a 20-minute walk uphill in a
north-easterly direction.
outdoor adrenaline experience
Adrenalin park
Are you eager for a rush of adrenaline and looking for great fun for all ages? Visit Adrenalin Park Crikvenica, which is located near the Hotel Omorika, only 50 m from the sea. Tree climbing, paintball, cage football, sumo wrestling, and aerotrim spinroller are just some of the activities that will give you a unique experience for all your senses. Enjoy an unforgettable outdoor adventure and spend a fun-filled day with friends, colleagues or loved ones!
discover untouched nature Horseback riding
Become one with the untouched nature in the hinterland of Novi Vinodolski and explore a wonderful valley located between the sea and wooded mountains riding on a horse. Choose a tour that will take you through the forest and meadows, and along a stream and lake all the way to the mountains.
RANCH SIRIUS d.o.o.
Cerovići 20a, Drivenik
+ 385 95 9080 737, +385 95 9143 678, +385 98 1718 325
ranchsirius@gmail.com
other sports
On land
A wide selection of sports facilities allows for sports activities all year round. Professional athletes will find ideal conditions for training and achieving top results, while recreational athletes can take part in some of the many outdoor activities.
Play a game of tennis, five-a-side football, handball, table tennis, beach volleyball, minigolf, badminton, basketball, streetball, rugby on grass or bocce at one of the sports centres on the riviera. Fitness enthusiasts will love the outdoor gyms located in attractive locations. The sports pitches on artificial grass are also suitable for training purposes.