discover, enjoy, repeat
Marine activities in the Crikvenica-Vinodol Riviera
The immense and exquisitely azure sea is already magical and medicinal all by itself. But we have devised activities tied to our sea, one of the world's loveliest, for adrenalin junkies. Swimming will help keep you in shape, but if you dive, you'll witness the duelling undersea beauty of marine plants and animals. Sailing, whether you're a beginner or seasoned hand, will give you a chance to experience the force of the wind and the aroma of sea salt on your own skin, while fishers will always manage to learn some local secret, custom or tradition from their hosts.
beaches to suit all tastes
For some the ideal time to be on the beach is at daybreak for a swim as the first rays of the sun emerge, for others it is when the sun sets, creating an indescribable experience. For yet others the beach is synonymous with reading a book or having coffee with friends, or even recreational activities. Sand, pebbles, shade, sunshine, places for families with children or pets, sports and recreation… our beaches have it all, set against the backdrop of lapping waves. And in the evenings these same beaches become genuine stages where you can enjoy good music as a cool sea breeze blows.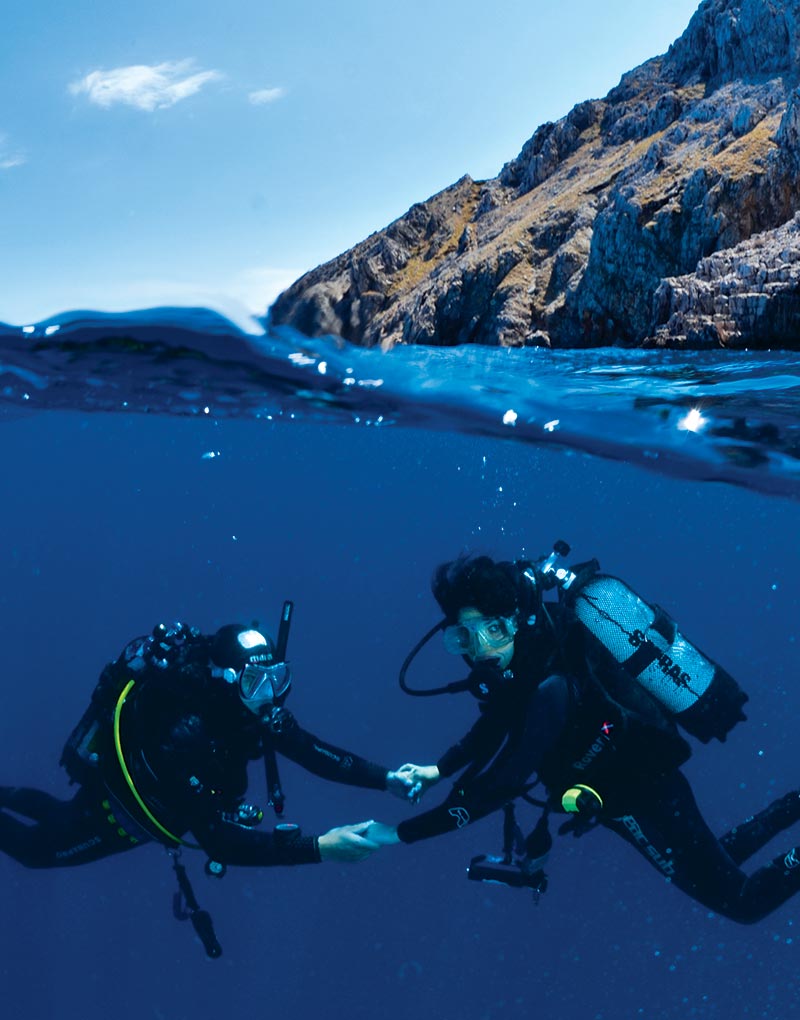 a positive impact on health
Swimming
Would you like to swim, either competitively or just for pleasure, but don't know how to begin? There are swimming clubs in Crikvenica and Novi Vinodolski, which organise swimming courses, programmes for non-swimmers and a water polo course during the summer months, as well as swimming and water polo competitions throughout the year.
Crikvenica swimming club
Strossmayerovo šetalište 1a
Crikvenica
+385 51 241 154
+385 91 1216 764
rippl.tea1@gmail.com
vinodol swimming club
Kralja Tomislava 8
Novi Vinodolski
+385 98 134 7746
exploring the secret depths of the sea
Diving
To dive under the surface to the seabed of the indented coastline, get to know the impressive geological and biological richness of the flora and fauna, and explore the numerous underwater caves and the wrecks of sunken ships – this is the dream of every diver. Are you an active diver or would you just like to try it? The waters off the Crikvenica-Vinodol Riviera provide an ideal opportunity to explore the magical underwater world. The seabed of the riviera is truly special. For a full experience, we recommend not going on an underwater adventure alone but in the company of professionals. Explore the underwater world of Kvarner and you'll be enchanted by what you see.
Mihurić diving
centre
Uvala Slana bb
Selce
+385 51 765 462
+385 99 216 9444
info@mihuric.hr
www.mihuric.hr
Dive
Side
Šetalište dr. Franje Tuđmana bb
Novi Vinodolski
+385 99 388 7589
mail@dive-side.hr
www.dive-side.hr
wind & waves
Sailing
People have sailed in this area since time immemorial, mainly out of necessity. In the past, the main professions were related to fishing, boats and sailing. It is not surprising, therefore, that sailing is today a popular and widespread sport that allows us to relax in the breeze, watch the sea and sky, and explore the hidden coves and beaches of Kvarner. The scenic Mediterranean landscapes surrounded by crystal clear sea are reason enough to get to know the riviera from the sea while sailing.
Sailing club Burin
Obala kneza Branimira 3
Novi Vinodolski
+385 91 6448 028
+385 51 791 053
cajtro@gmail.com
an oasis of peace and quiet
Fishing
Fishing is not just fun; it has been a way of life since ancient times. Recreational fishing at sea or in freshwater provides a true feeling of peace and relaxation. The Adriatic coast is a paradise for fishermen due to its richness of different white and oily fish species. To engage in recreational fishing at sea, you need a daily, monthly or annual permit (both for fishing from the shore and from a boat) that you can obtain from the relevant Ministry or through a sales representative. You can also take part in local sport fishing competitions. If you head towards the hinterland of Crikvenica, only a few kilometres away, you will come across Lake Tribalj, where fishing is allowed throughout the year. This lake, 41 hectares in size, with an average depth of 4 m, is home to fish species such as carp, grass carp, catfish, zander, eel, and others. There are 24 fishing locations marked along the lake from which fishing is allowed. A simple strike will be enough for you to catch and then release a fish.
fishing club arbun
Crikvenica
+385 51 241 373
+385 98 977 6494
ultramarin@ri.t-com.hr
fishing club oslić
Selce
+385 91 555 6083
srk.oslic.selce@ri.t-com.hr
fishing club tunera
Jadranovo
tunera.jadranovo@gmail.com
fishing club lovrata
Dramalj
+385 95 554 5501
srd.lovrata.dramalj@gmail.com
fishing club vrulja
Smokvica Krmpotska
Klenovica
+385 91 479 6131
dianabutorac33@gmail.com
other sports
At sea
Spice up your holidays on the riviera with a water adventure, put out to sea and have fun with some of the most attractive summer sports. Numerous sports centres offer a wide choice of popular water sports such as water skiing, SUP, kayaking, jet skiing, parachuting, pedal boating or adrenaline-fuelled tube and banana rides. If you want to spend a day away from the bustle of the city, you can rent a boat and head to one of the hidden coves of the riviera.